History of the CTBA - Part 3
By Ken Brown
From the Bluegrass Bulletin, 2002
Unfortunately, a cold rain kept the crowds away in droves, and the audience was estimated at about 90 for the day. A fall "Pick-Nic" for members was also held at Quarries Park in northwest Austin from 1996 to 1999. Board members began to be concerned about the decline in the association membership (see the January 2001 issue of the Bulletin). In March, 2001, the Board met for a retreat to discuss goals and strategies for the association. A monthly meeting with a featured, paid band was suggested, as well as seeking grants and corporate donations for funding. In October, 2001 another fall festival was held at Old Settlers Park.
Membership: Growth and Decline
Central Texas has never been part of the bluegrass heartland. It is removed both culturally and geographically from the land of the banjo and the mandolin, and despite 25 years of strenuous effort by successive boards of directors, the membership has never grown to any great size. It probably peaked in the mid-1990s, but has declined since then, and we now have fewer than 150 members. I could find very few membership figures; these are all that I was able to locate (some are estimates):
1978 61 charter members
1988 230+
1992 219
1993 250
1995 312-325
1996 335
2002 147
Most of the major festivals are in East Texas, and even when the CTBA maintains a membership table, it is difficult to interest East Texas residents in joining a central Texas club. So far, I have seen no evidence that the Down From the Mountain Tour or the "O Brother Where Art Thou" soundtrack will reverse our declining membership.
Festivals, Concerts, and Workshops
As the above history reveals, the CTBA has presented an amazing array of live music during its 25-year history, beginning with the nascent organization's very first annual meeting. This part of its mission statement has been well executed, with 11 years at Zilker, four years at the Quarries, several festivals at Old Settlers Park, and a variety of concerts by touring bands. The two major concerts at the Performing Arts Center in the mid-1980s were the climax of this effort.
The Weekly Jam Session
The jam session is another success story. It's never been more healthy than it is right now. Pickers can show up at ArtZ RibHouse just about any Sunday and depend on finding an assortment of like-minded jam partners. Dependability and a good host are the key to a good jam session, and we have both. We have been very fortunate in having support from gracious hosts like Tom Allen, Art Blondin, and Zenobia Sutton. If you go to ArtZ to pick or listen to shows, buy something to eat. Art didn't win all those barbecue cookoff awards on the walls for nothing, you know.
In reality, the CTBA doesn't have to do anything to sponsor the jam session. ArtZ RibHouse supplies the location, and all we have to do is show up. For a time the CTBA had a semi-formal "jam coordinator" (Ron Wilbourn, and later Eddie Collins) whose job was to encourage new pickers and to try to break the session into subclusters when the circle got too big. I think the association would do well to reinstate this position. If there's a drawback to the current jam, it's that it's usually too big. It's not unusual to see 20 or more pickers in a circle trying to play the same tune, often without even being able to see one another. Tunes take 15 minutes to rotate around the circle. Someone needs to enforce cell division on the larger sessions.
Education and Promotion Functions
The growth of the association depends on new members, and that means reaching existing bluegrass fans who don't yet know about us, as well as making new bluegrass converts. The CTBA has been struggling towards this goal for its entire life. As I remarked earlier, this isn't really bluegrass territory. Most Central Texans are more familiar with Christina Aguilera than Mountain Heart. Even the sporadic appearance of Alison Krauss on KGSR's playlist hasn't really helped inform the public much, although I do think that radio is the best medium for reaching the public. See "Pitching Bluegrass to Commercial Radio" at http://ibma.org. Even as we speak, the IBMA is starting a new "Discover Bluegrass" marketing campaign. Maybe we need to get involved in that.
The Future
At times, it seems as though the CTBA is about to go under, either because bad weather has slammed the attendance at some heavily booked event, or because not enough willing volunteers can be found to do the hard work of the organization's officers, or because not enough people are willing to fork over the $20 to become a member. But, take heart. It's always been that way, as long as I can remember, and yet the CTBA has survived. Instead of using "In Despair" (the Stanley Brothers) as the CTBA theme song, maybe we should use "I've Endured" (Ola Belle Reed).
Some People to Thank
There are some folks we ought to acknowledge who have contributed more than their fair share to the CTBA. Of course, this is just the short list. It leaves out a lot of important names, but I think special mention should go to Ted Miller, who helped get the whole thing started; Buck Buchanan, who printed the newsletter for so many years; Tom Allen, Art Blondin, and Zenobia Sutton, our hosts; Shawn Spiars, our efficient webmaster; Steve Zimmet, our editor; and especially all of the current and past officers, who devote long hours without pay or even much appreciation from the membership.
Editor's Note: This article was contributed and copyrighted by Ken Brown, 2002. Ken (dobro, guitar) is a native Austinite in the PhD program at UT Austin. Ken plays (mostly dobro) with the Blackland Prairie Boys. He says The Boys don't let him sing in public, and he has the severed microphone cords to prove it.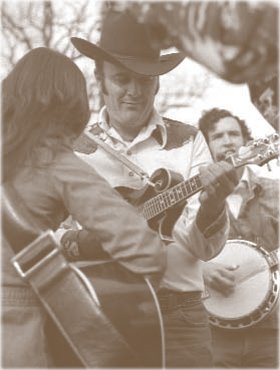 Jamming at the Split Rail circa 1976. In the foreground, Dennis "Hoot" McDaniel on the mandolin; in the background, Marshall Wilborn on the banjo.